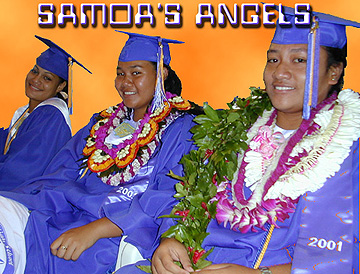 2001 Graduates of Samoana High School are all smiles as they embark on their next journey through life.

VISIT THE OFFICIAL DEPARTMENT OF EDUCATION SITE AT:
www.doe.as
This site has links to all the high schools and the DOE central office.

CONTACT INFORMATION

DIRECTOR
Dr. Sili Sataua
OFFICE NUMBER:
(684) 633-5237

FAX NUMBER:
(684) 633-4240

MISSION STATEMENT
The Department of Education (DOE) is the largest agency in the American Samoa Government. Its primary mission is to prepare the school age children of American Samoa to be academically, socially, and mentally competent to effectively confront life's many challenges, and to become responsible citizens in any society or community they may choose to live in. Thus, the academic, vocational, professional development, support services and special education programs are the principal responsibility of this Department.

The DOE has more than 1,605 employees, and includes 23 elementary schools, five high schools, one vocational-technical high school and 54 early childhood centers. The DOE provides educational programs for over 15,500 students.