MISSION STATEMENT
It is the mission of the Department of Human and Social Services (DHSS), to provide the best possible services and resources for the betterment of the lives of the people of American Samoa.
DHSS is a dynamic, innovative, compassionate and professional organization for the practice of social work and human services such as counseling, client protection and advocacy, family preservation, child care, nutrition counseling and education, assistance in vocational rehabilitation, substance abuse awareness and education, and nutrition assistance for at-risk community members.
Within this departmental setting, everyone is treated with dignity, honesty, courtesy and respect. We value our staff; they are our best asset.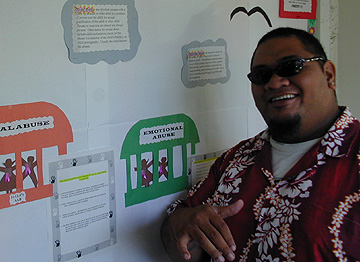 Kurene Ma'o of the CPS unit within DHSS, poses next to a billboard decorated specifically for Child Abuse Prevention Month.
CONTACT INFORMATION

(Acting) DIRECTOR
Patolo Mageo

OFFICE NUMBER:
(684) 633-1187
FAX NUMBER:
(684) 633-7449