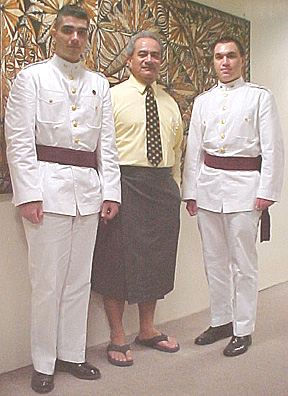 West Point Cadets. Pictured from Left to Right: Conan Ala'ilima,
Lt. Governor Togiola T.A. Tulafono and Birdsall Ala'ilima

55 Disqualified from US Army Recruitment
The Military Recruitment Military Entrance Processing Station (MEPS) Honolulu Office has disqualified 55 local applicants from recruitment for the US Army. Please read the letter from Governor Tauese P.F. Sunia concerning this matter and the reason why ASG is concerned with the MEPS office decision and possible reconsideration.

Governor's Letter to MEPS Office




"

In all cases they cite discriminating practices on the part of MEPS. Furthermore, I am very concerned that this practice compromises the US military standing as an equal opportunity employer."

---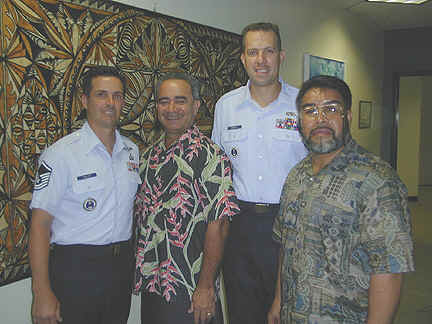 We are extremely pleased to learn that six (6) of our local graduating seniors have been recruited by the Air Force. We encourage others to seek out Air Force opportunities. The thing about the Air Force is that the opportunities in that service are almost equally available to women and men alike. Pictured above representatives from the Air Force Recruiting Office in Aiea Hawaii. You may email questions to: Bob Phillips, Master Sergeant, USAF
CONTACT INFORMATION

Military Affairs Office:
MR. FA'I FA'AITA
TEL: (684) 633-7376 militaryaffairs@asg-gov.com
Veteran's Affairs Office
MR. PAGOFIE FIAAOGA
TEL: (684) 633-4206