NEWS
DEPARMENTS
SERVICES
PRESSRELEASE
ISLAND INFO
HISTORY
DOWNLOADS
LINKS
CONTACT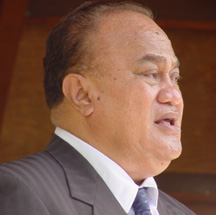 Tauese Pita Fiti Sunia was born on August 29, 1941 and raised
in the village of Fagatogo on the island of Tutuila where his father
served as a minister for the Congregational Christian Church in American Samoa.

He attended Fagatogo, Poyer and Marist schools and graduated from Samoana High School in 1960.

Tauese attended York College in Nebraska and Ottawa University in Kansas before graduating from Kearny State Teachers College majoring in history and political science with a certification in secondary education.

He taught high school students in Nebraska before returning to American Samoa in 1966.

On his return to American Samoa, Tauese taught at various high schools.

In the mid-1960ís, American Samoa was in the midst of education via television and Tauese became the first Samoan television instructor and was subsequently appointed as Assistant Director of Education for Television Instruction and then as Assistant Director of Education for Administration.

From 1972 to 1974, he was appointed Deputy Director of the Department of Education.

In 1974 he was appointed as the first Vice-President of the newly established American Samoa Community College.

In 1975 Tauese attended graduate school at the University of Hawaii and received a Masterís degree in Educational Administration.

While in Hawaii, he worked for the university as a consultant, writing educational curriculum for Samoan students residing in Hawaii.

He returned to American Samoa in 1981 and was appointed Director of the Department of Education serving in the capacity from 1984 to 1988 in 1998
Tauese was awarded an honorary doctoral degree in humanities and letters by Golden Gate University.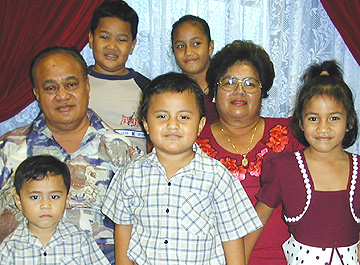 Tauese Sunia has served as a deacon with the Congregational Christian Church in American Samoa since 1971. He was elected vice-chairman of the Church in 1995. In 1996 he was elected as chairman overseeing all church affairs for American Samoa, Hawaii, New Zealand and the United States. Since 1968, Tauese has served as a counselor for Samoan land and title cases. He is a member of the American Samoa Bar Association and served as the Associationís president from 1991 to 1992. Tauese Sunia was elected Lieutenant Governor of American Samoa, serving in Governor A.P. Lutaliís administration. In November of 1996 Tauese was elected Governor of American Samoa and became the first Samoan from the Manuía islands to become governor. He was also the first incumbent lieutenant governor to be elected governor in the territory. In November of 2000 Tauese was re-elected and became the first governor elected to two full consecutive terms of office in American Samoa.